Shenzhen's new Opera House (Competition Proposal) by BIG
Design:    BIG
Location:  China
Type:      News
Tags:     International Architecture Design Competition of Shenzhen Opera House Guangdong Shenzhen
Category:  Hospitality Culture Architecture Opera House
BIG and BIAD's design for Shenzhen's new Opera House on the city's waterfront, the Rhythm of the Sea, received second prize in the international competition. Located at the Shenzhen Bay Coastal Recreation Zone Park, the southern end of the Shekou Peninsula in Nanshan District, the project site neighbors the Shekou Mountain Park on the northwest, the vacant mixed-use land on the north, the Shenzhen Bay Sports Park on the east, and the existing residential area on the southwest. It has a unique geographical location and fascinating landscape featuring mountain and sea views. The total construction area is 222,000 square meters, with a design scope of 175,000 square meters, carrying the functions of opera hall, concert hall, multifunctional theater and supporting facilities.
Overview: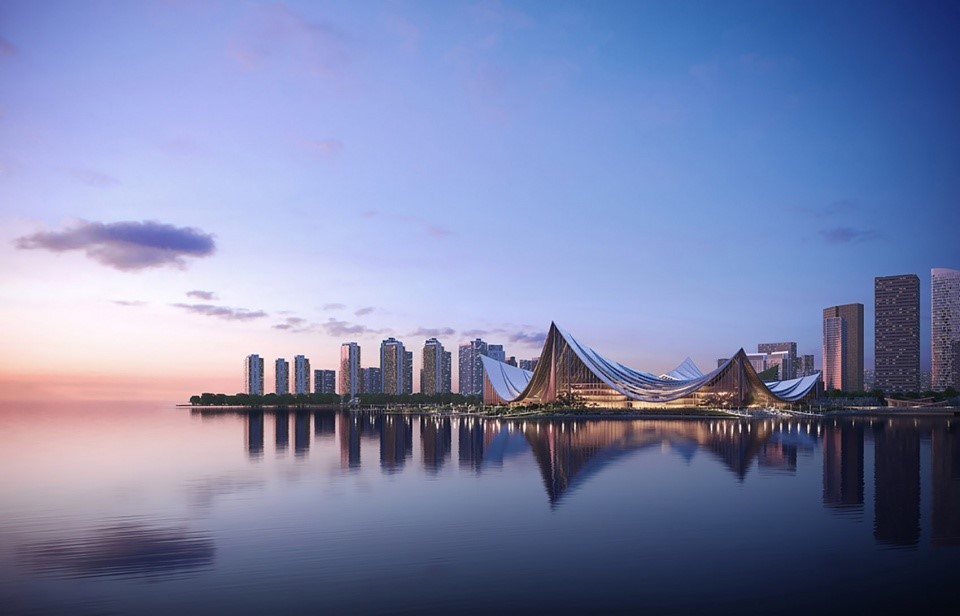 With Shenzhen Opera House as the core, the whole area will be created into a cultural belt integrating coasts, communities, buildings and parks. The project is expected to become a world-class palace of art, a new platform for cultural exchanges and a high-quality coastal art parlor for citizens, turning the area into a renowned vibrant bay.
A renowned vibrant bay: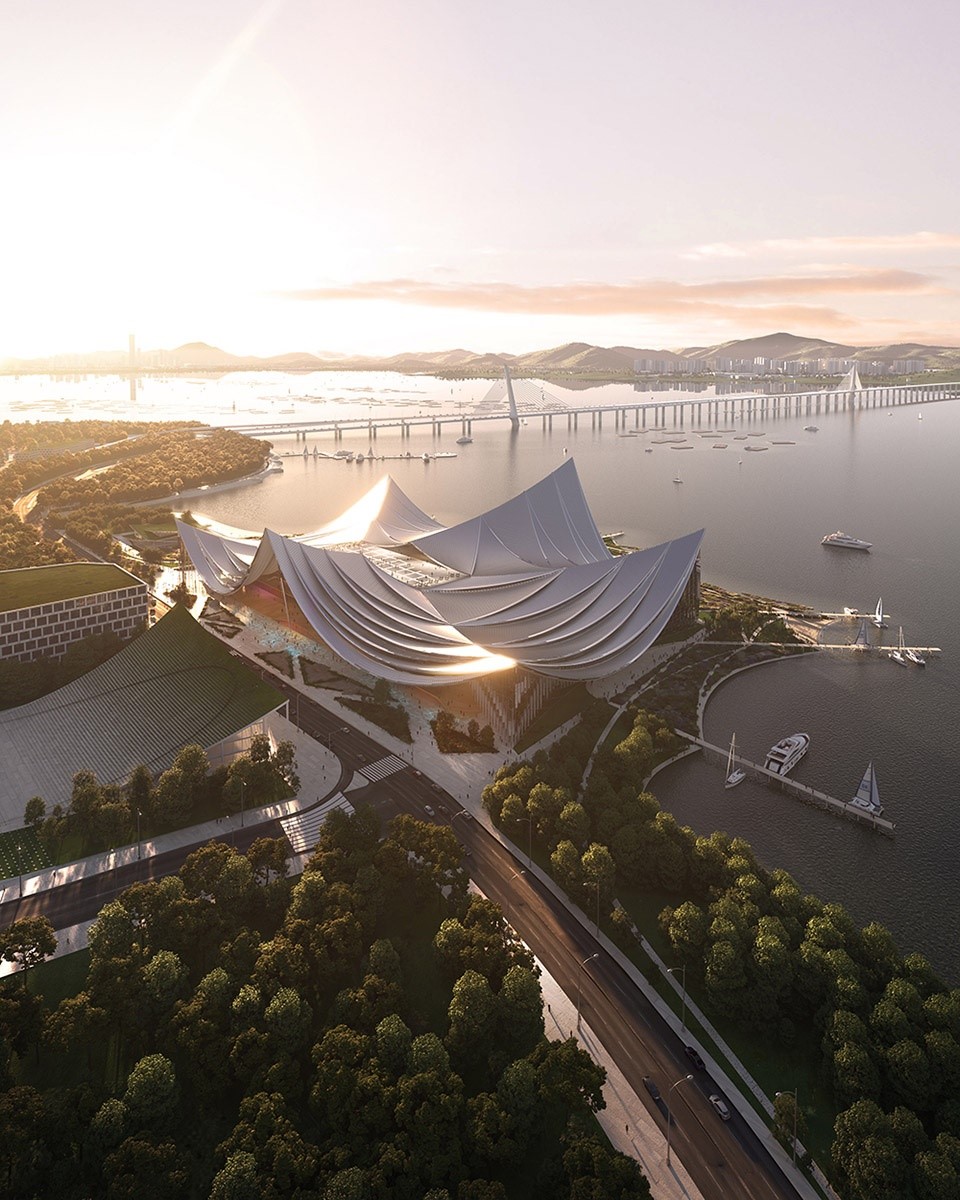 The Opera House on the sea level: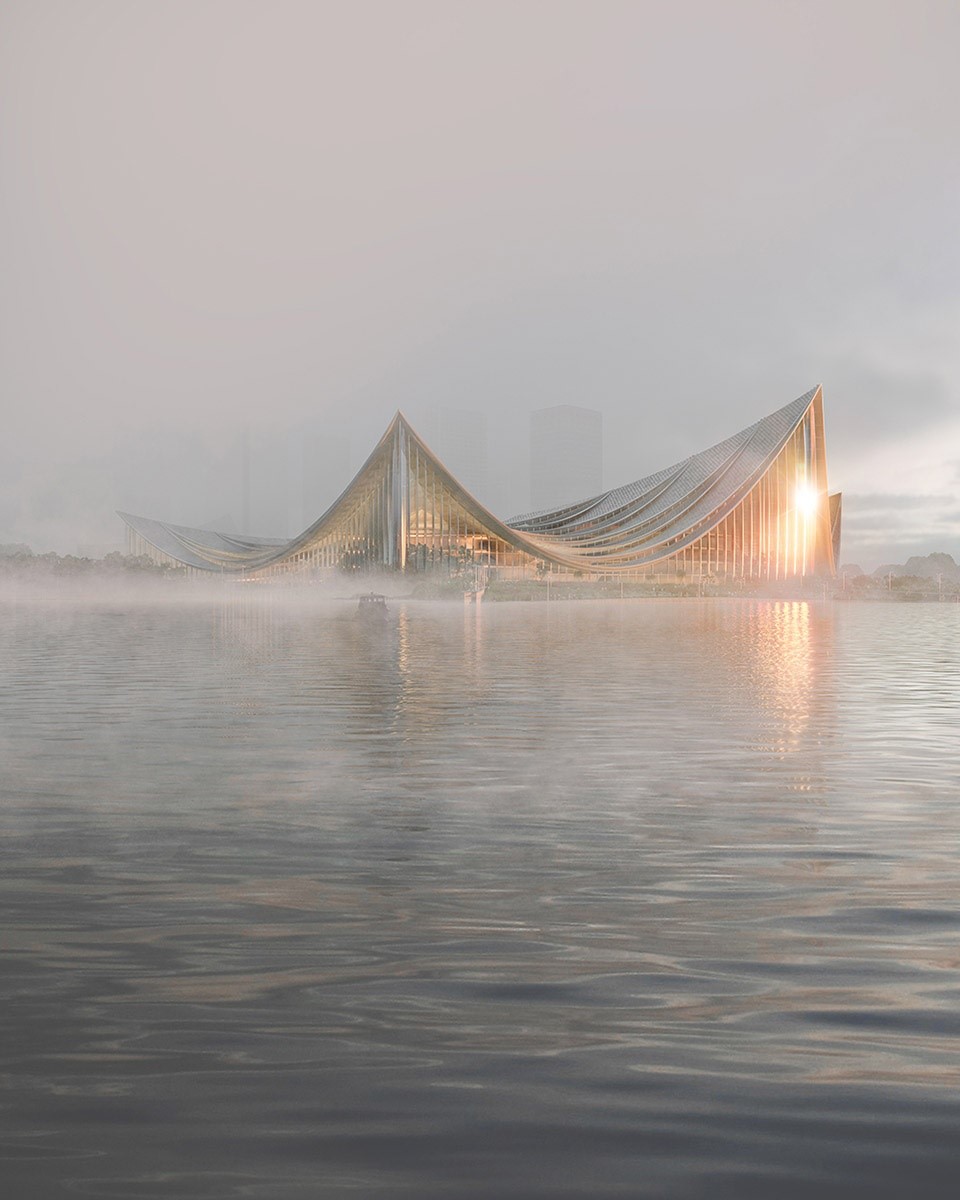 Based on this, the Rhythm of the Sea is conceived as a fantasy factory seamlessly integrating production and performance in back-of-house and front-of-house volumes, creating an extraordinary terrain shaped by the diverse spaces of the opera house for audience members and the public to explore. The design embodies Shenzhen's experimental ethos and uses technology and innovation to set new standards for performance art, and connect opera to new audiences and generations.
The indoor public space: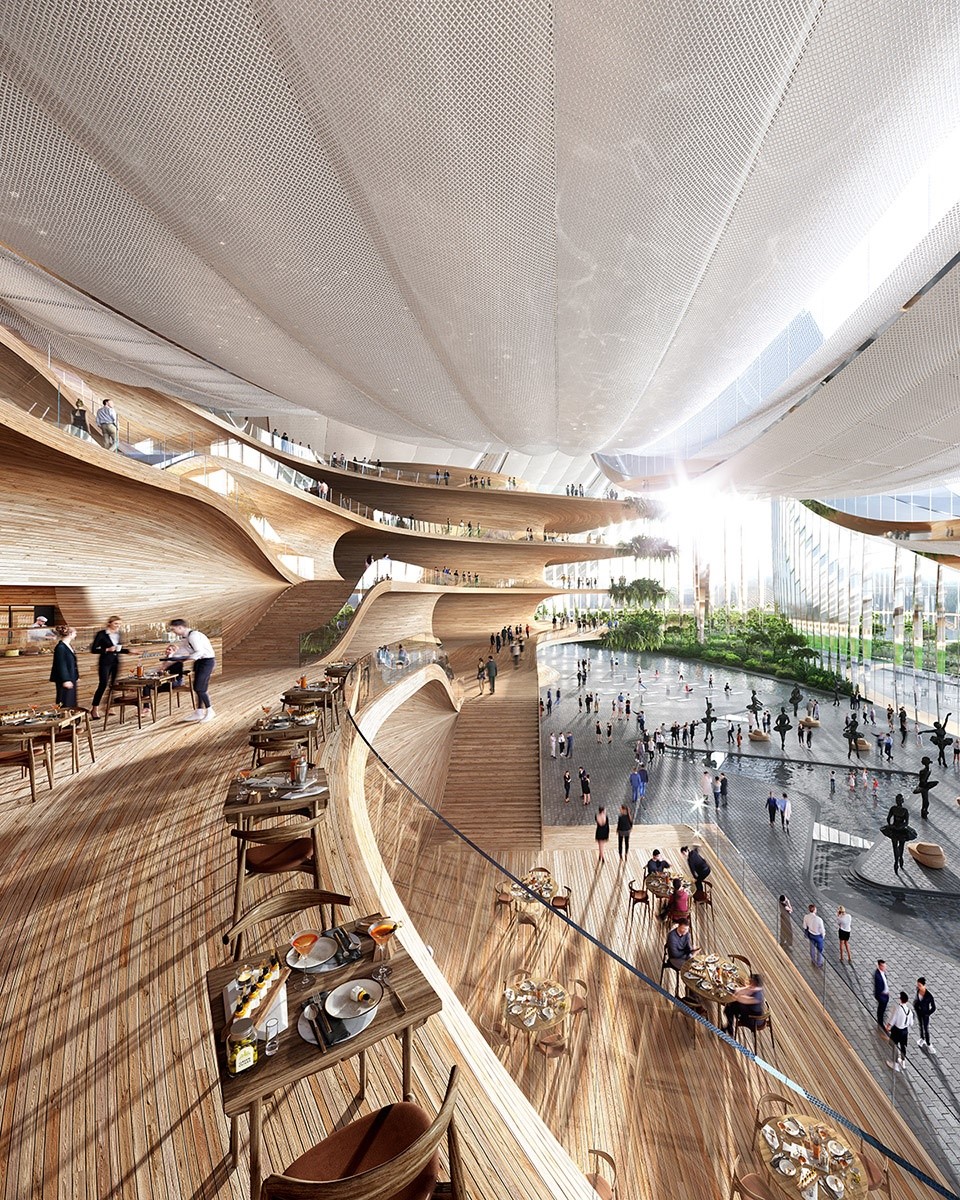 BIG and BIAD's second place-winning design in the international competition for Shenzhen's new opera house, The Rhythm of the Sea, extends the life of the city to the water, creating a park that brings the harbor into the foyers and opera guests out to the bay. The new waterfront destination offers experiences of performance art whether you have a ticket or not.
The platforms for gathering: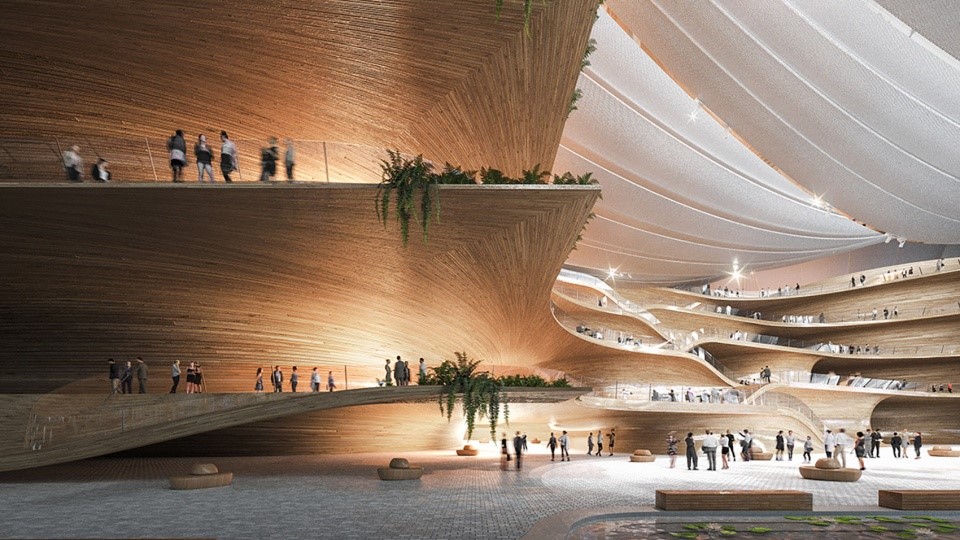 Shenzhen, as an important platform of China's Reform and Opening Up, is a modern coastal city full of vitality and creativity. And Shenzhen Opera House will become the most important cultural facility among Shenzhen's 'Ten Major Cultural Facilities in the New Era'. Therefore, International Architecture Design Competition of Shenzhen Opera House has attracted much attention worldwide. Via Global Invitation and Open Call, International Architecture Design Competition of Shenzhen Opera House received designs from more than one hundred registered teams. And 17 teams from 14 countries and regions were shortlisted, representing the world-class architectural design standards.
The entrance: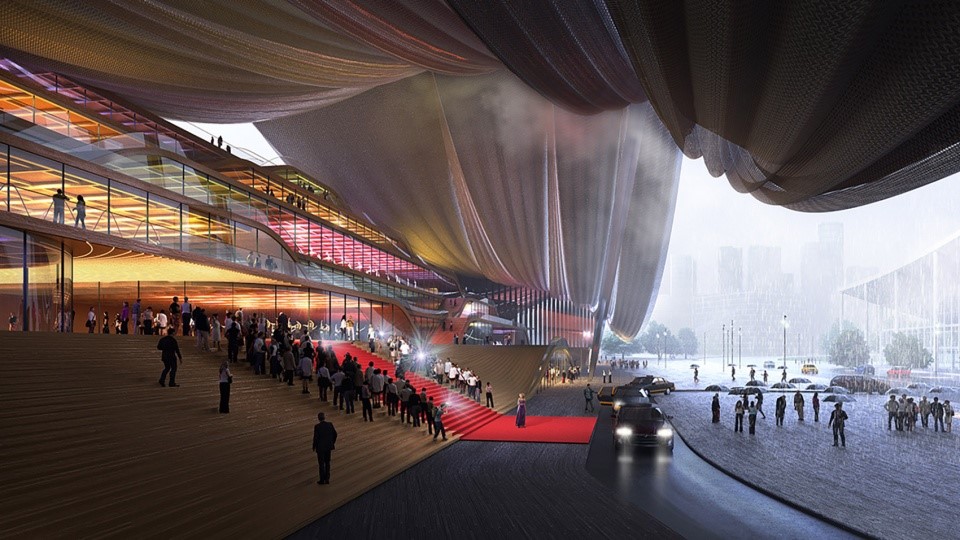 The opera hall: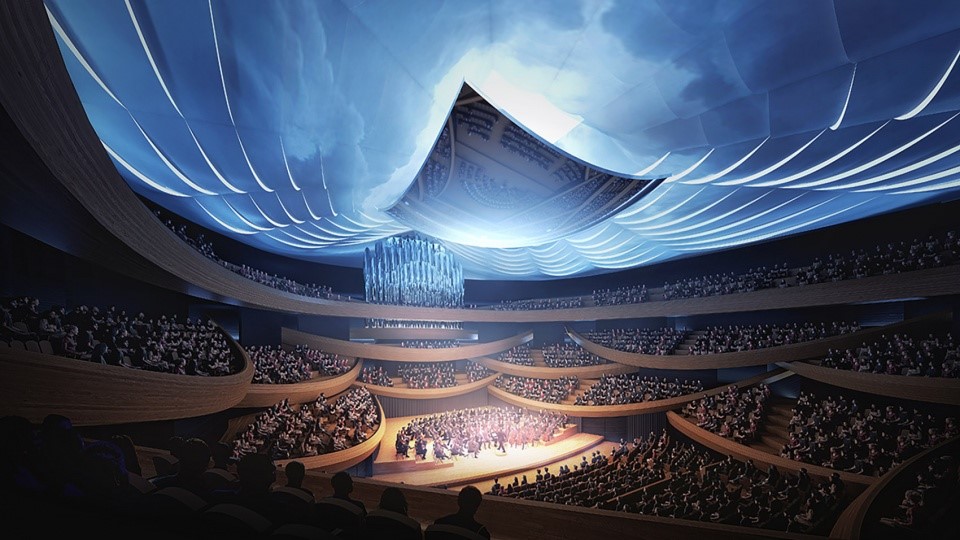 The open dining space: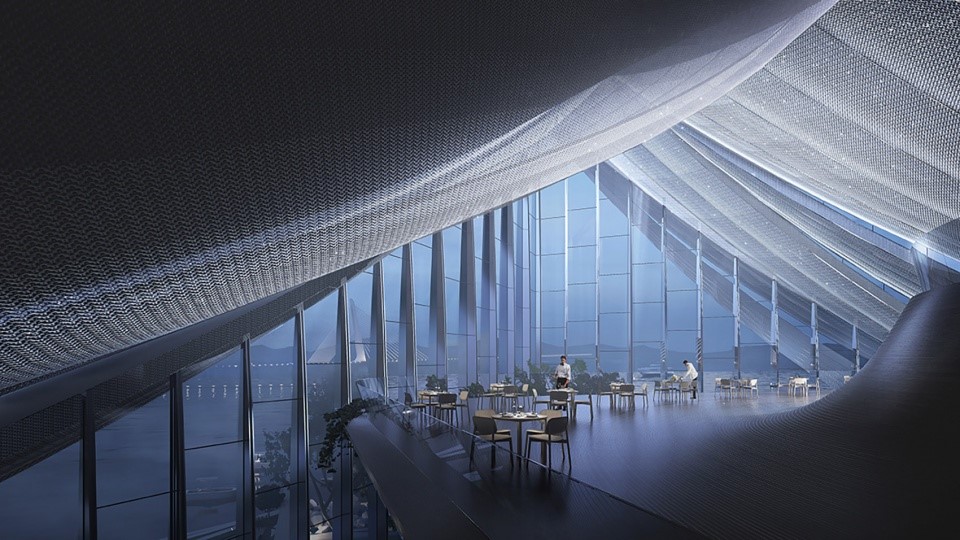 The final results of the competition were announced on March 16th. The first prize went to Ateliers Jean Nouvel, while Bjarke Ingels Group (BIG) + Beijing Institute of Architectural Design (BIAD) Consortia, Kengo Kuma & Associates + Shenzhen University Institute of Architectural Design Consortia received the second prize, and MVRDV B.V. + Guangzhou Design institute Consortia,Snøhetta, REX Architecture, P.C. + JET Design Architect Inc. Consortia won the third prize. Thank you to our partners and collaborators on the design! They are Aterlier Ten, Front Inc, Nagata Acoustics, Systemica and Theatre Projects, and congratulations to the Jean Nouvel team!

Sources: https://www.gooood.cn/shenzhens-new-opera-house-competition-proposal-by-big.html

Post time: Aug-10-2021